OUR LUXURY SOULSHINE HOME FOR 2018
Hold a room by making an enquiry to our lovely bookings team...
Scroll down for our latest room photos!
Five Reasons why we chose Can Shui once again as our Soulshine home for 2018:
1. THAT view
One of the main reasons we picked Can Shui as our new Soulshine Ibiza home is the view. Jaw-dropping, breathtaking, soul-stirring, stunning, totally and utterly beautiful. So many adjectives and I still can't quite sum up the nature of this mega-view out to the sea that you'll be able to soak up during Yoga, sunbathing by the pool, feasting on extraordinary healthy cuisine, lounging on the ridiculously comfy day-beds and perhaps most special, for many of the Can Shui rooms, upon waking and sleeping. It is a truly a view to bring peace and space and encourage a deep letting go.
2. Beach Time
We're also mega-excited by the walk down to the sea from Can Shui. We have an incredibly unspoilt beach directly beneath the house and about a 40-minute hike along a rugged cliff path. The beach is deserted, wild and absolutely rugged. The perfect escape! Es Portixol is completely removed from the tourist trail (a true gem in Ibiza summer!). Surrounded by pine trees and cliffs and with rustic fishing shacks, this secluded cove offers lush nature, clear waters and absolute tranquility. Yes, simply divine!
3. The Rooms
We've chosen Can Shui as our Ibiza home not only due to the luxurious and stunning nature of the property, just perfect for retreats, but also because of the range of room options to hopefully suit all of Soulshiners needs, each finished to an exceptional standard and furnished with an enormous amount of love. Expect some serious pampering!
4. Utterly Scrumptious Cuisine
The Can Shui Team are absolute experts in the art of stunning, healthy, mindful and deliciously healthy cuisine. We can't wait to spoil you rotten with guild free and healthy feasts during your stay - all presented in the most beautiful way. Cooking at home will never seem the same!
5. An Exceptional Soulshine Retreats + Can Shui Team Combo!
In addition to the extensive Soulshine Retreats Team, comprised of Hosts, Yoga Teachers, Wellness experts and extraordinary healers and body-workers, we've chosen Can Shui as our home for 2017 to partner with the exceptional Can Shui Team who will be sharing and enhancing our desire to pamper you all on every level and provide the most beautiful and soul-soothing Soulshine experience.
And something we're most excited about? Well hopefully seeing as many of you lovely lot again as possible. You really are like our Soulshine Family and we miss you! It would bring us so much joy to see as many of your lovely faces again in 2017. And of course, we can't wait to extend our Soulshine family and welcome a whole new bunch into the Gang too. What's not to be excited about!
The Rooms
With daily house-keeping, sumptuously luxurious linen, organic bath products and a meticulous attention to luxurious detail, your Can Shui experience is guaranteed to exceed expectations. We've chosen Can Shui as our Ibiza home not only due to the luxurious and stunning nature of the property, just perfect for retreats, but also because of the range of room options to hopefully suit all of Soulshiners needs. Read on to find out more about each of the rooms available…
Travelling Solo? Never fear, the vast majority of our guests are solo travellers. We're so proud that we seem to attract just the loveliest people and have seen many a beautiful friendship flourish on retreat.
Luxury Double Solo Occupancy Suites
#1

Santosha Suite
A private suite away peacefully tucked in a courtyard away from the main house, Santosha Suite offers a grand entrance through a towering ornate African door with tall, long shuttered windows looking out towards the breath-taking seascape.
The suite itself is dramatically stunning with a four-poster bed, double-height ceiling, fire place, built in ceiling height shower space, separate ensuite bathroom and Moroccan influences throughout.
Spacious, private and luxurious, Santosha Suite offers the perfect space for pure solo indulgence or luxurious sharing with a partner.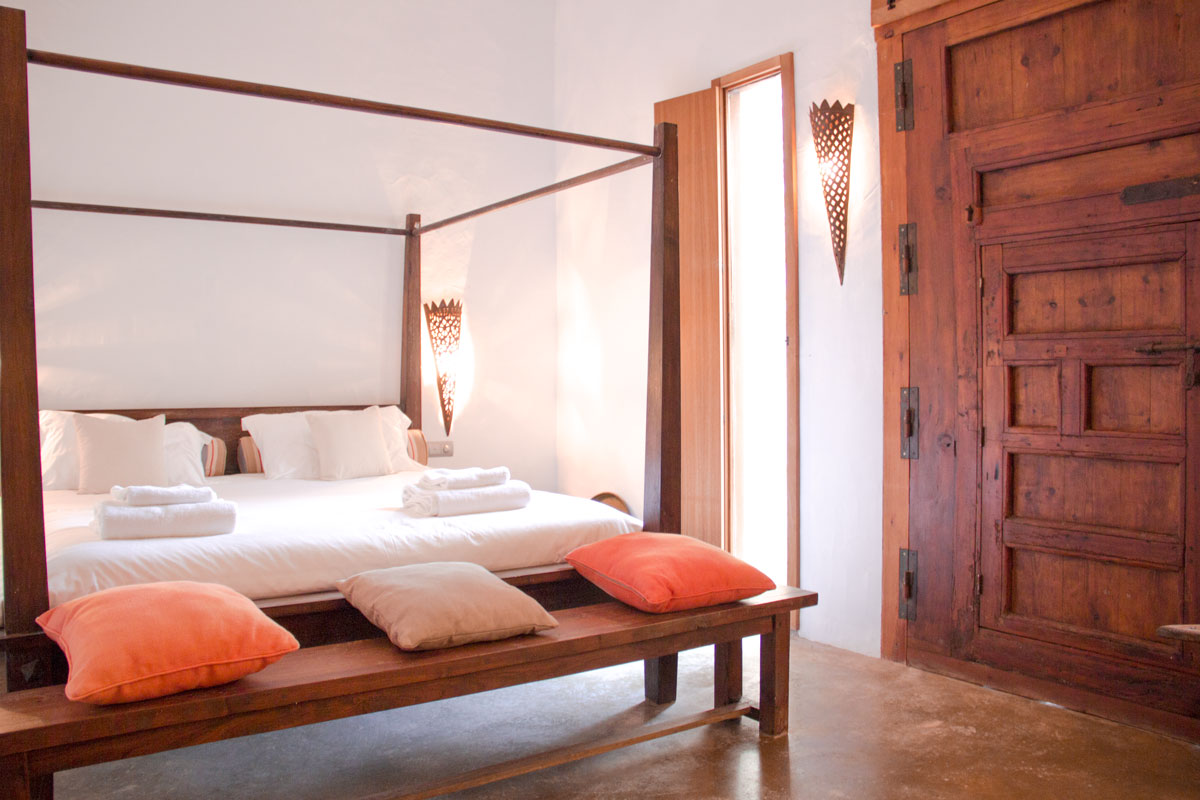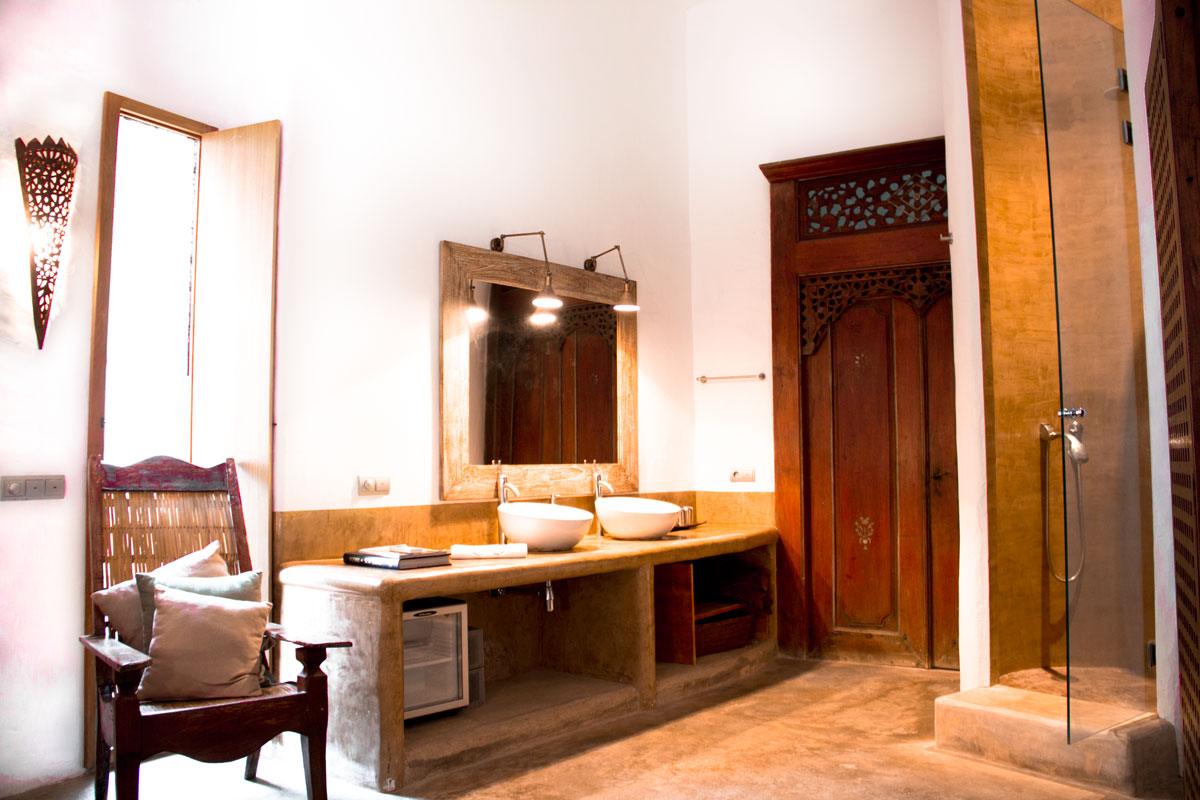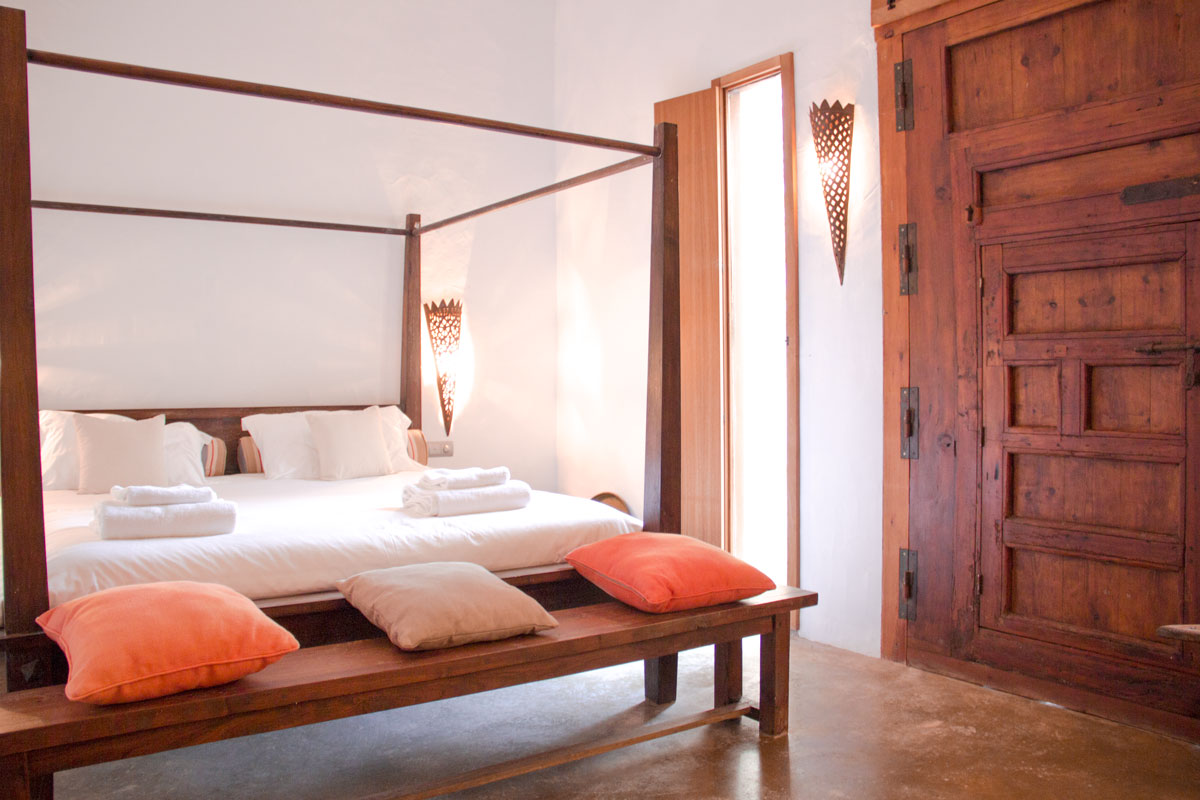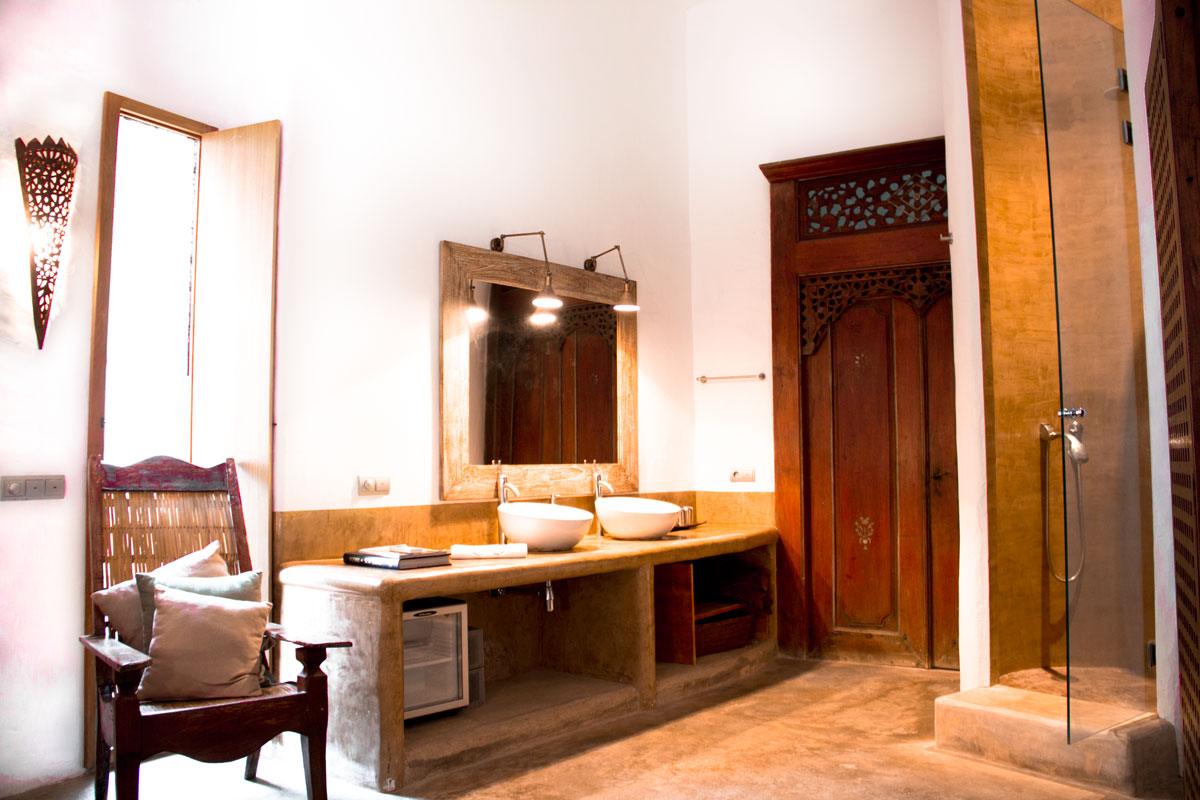 #2

Bhakti Suite
On the ground floor of Can Shui with its own private terrace adjoining the main terrace and overlooking the swimming pool and stunning sea-views, Bhakti offers extreme comfort and the perfect space for lounging and relaxation.
Offering a four-poster bed, open-plan bathroom and walk in closet, Bhakti is the perfect space for pure solo indulgence or luxurious sharing with a partner.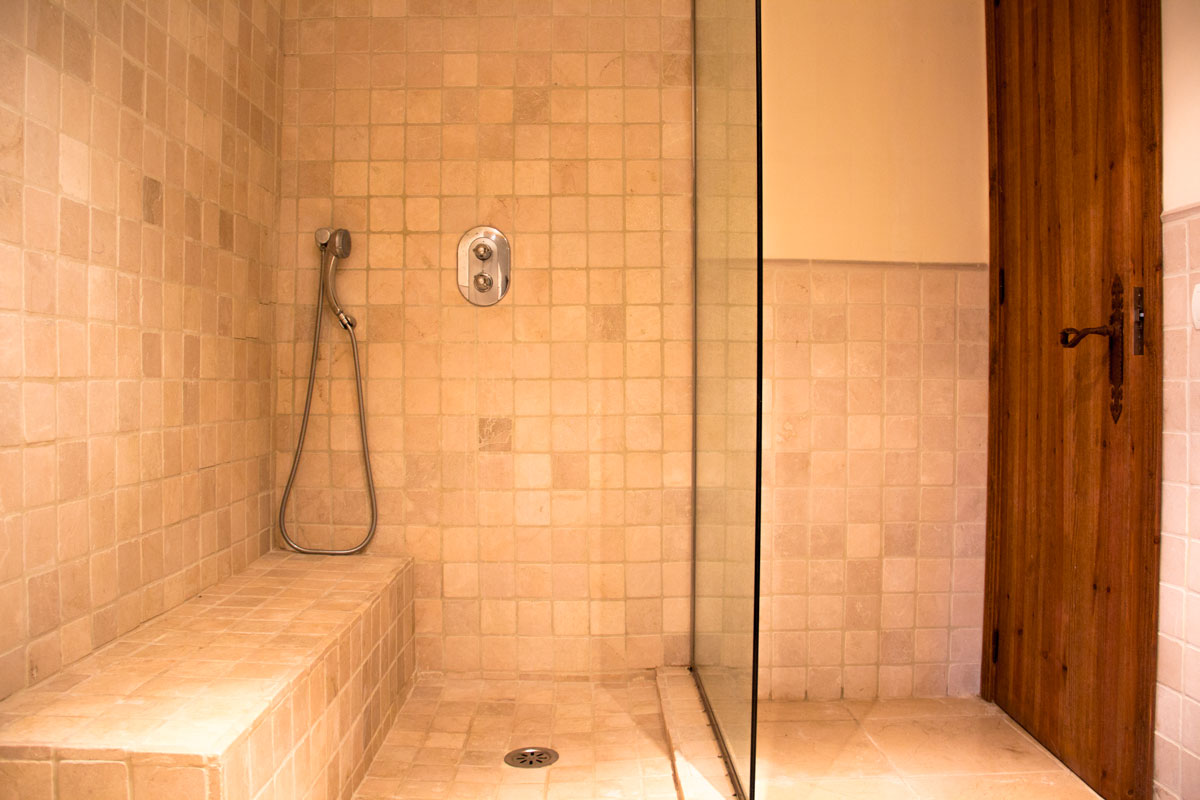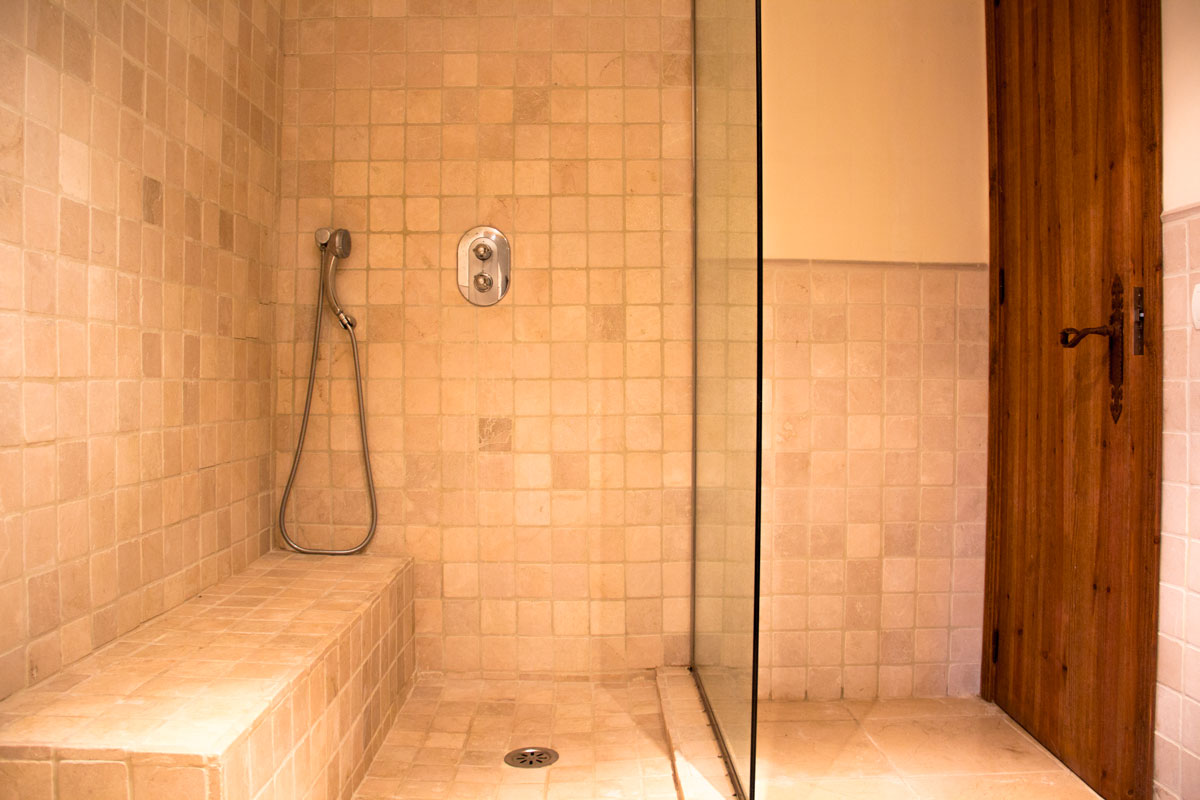 Luxury Shared Retreat Suites
#3 Shiva & #4 Shakti Suites
Prepare to have your breath taken away when you enter Shiva & Shakti – light pours in from floor to ceiling sliding doors offering uninterrupted vistas out to sea. Imagine waking up to sunlight shining on the blue of the shimmering sea or sleeping on a sea of stars at night. Shiva and Shakti offer simply stunning room options.
Each of these rooms boasts a free-standing shower within the bedroom so you can enjoy a luxurious shower with breathtaking views out to sea. There is also a balcony to soak up the views and also providing the perfect spot for those body-soothing treatments.
Please note: whilst the shower is open-plan within the bedroom, the W.C is in a separate room so privacy can be ensured. Guests will simply be able to enjoy the sumptuous grounds and many shared guest spaces to allow their room-mate privacy when they shower.
Both Shiva and Shakti are simply perfect for solo travellers, friends or partners sharing. Both rooms can be configured as twin or double beds.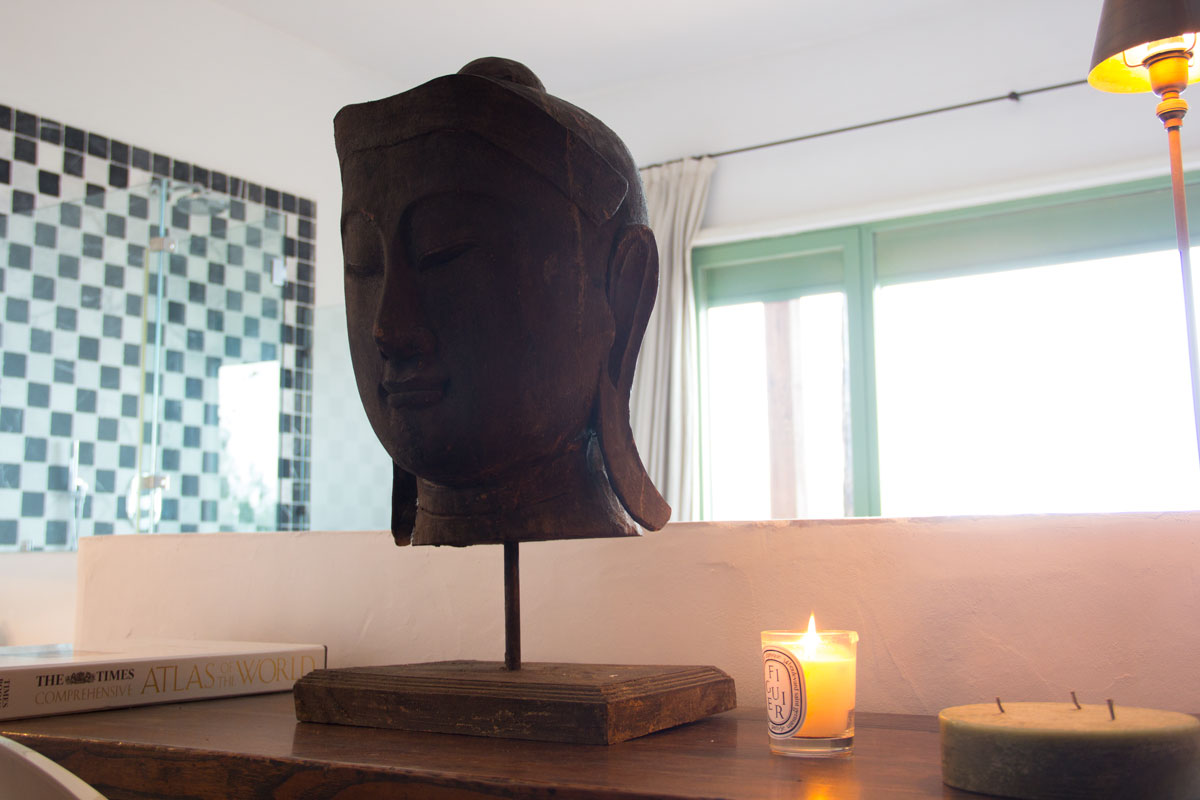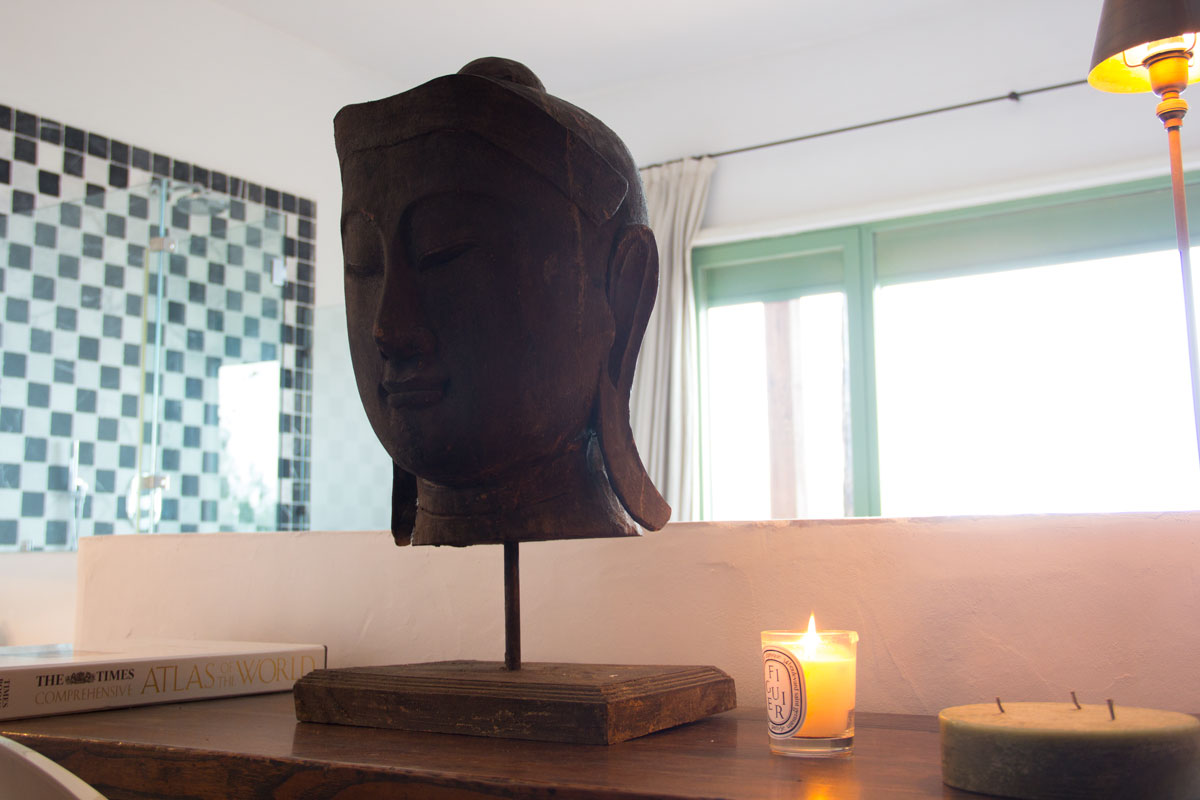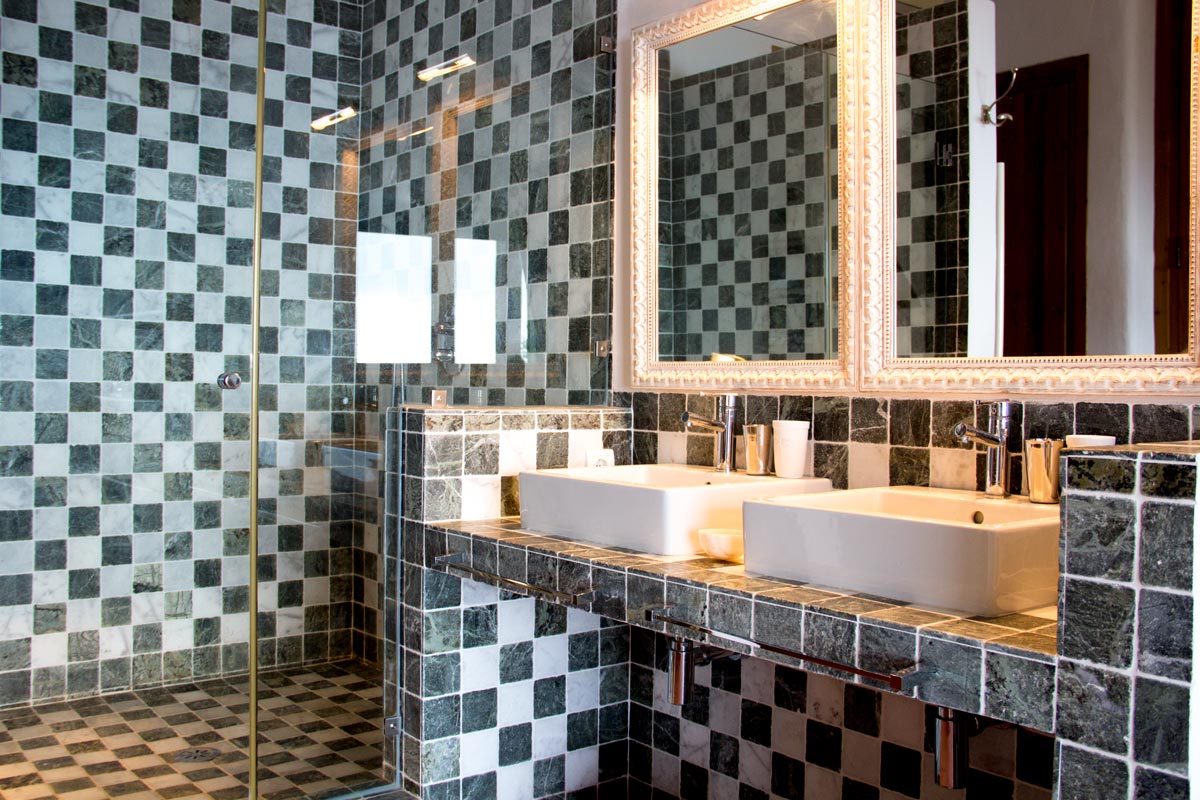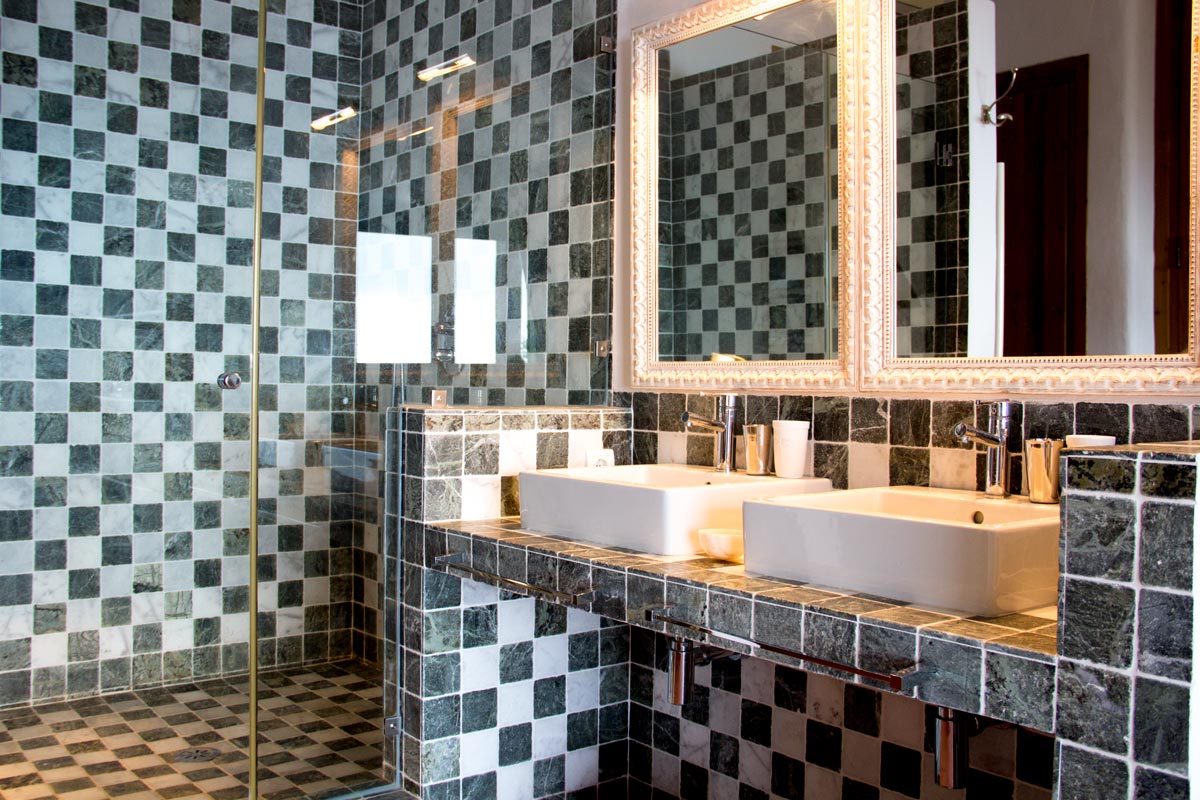 Luxury Snug Shared Retreat Rooms
#5 Yin & #6 Yang
Yin & Yang offer simple, light and comfortable twin rooms with windows overlooking the gardens, a view of olive trees and a shared bathroom with shower. They're positioned close to the Zen Den, our wellness and first floor living space just perfect for quiet time and relaxation (check out the Moroccan-style photos for a taster of this yummy relaxation space).
The perfect option for solo travellers and friends travelling together.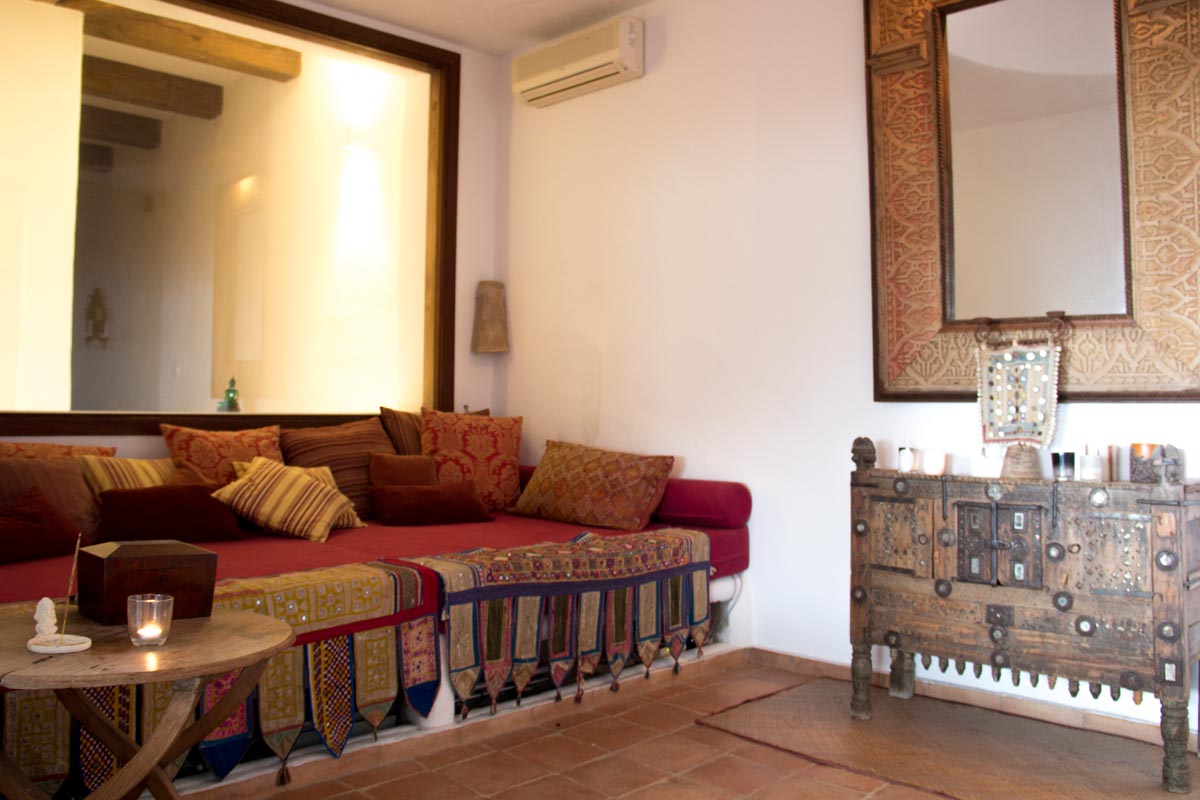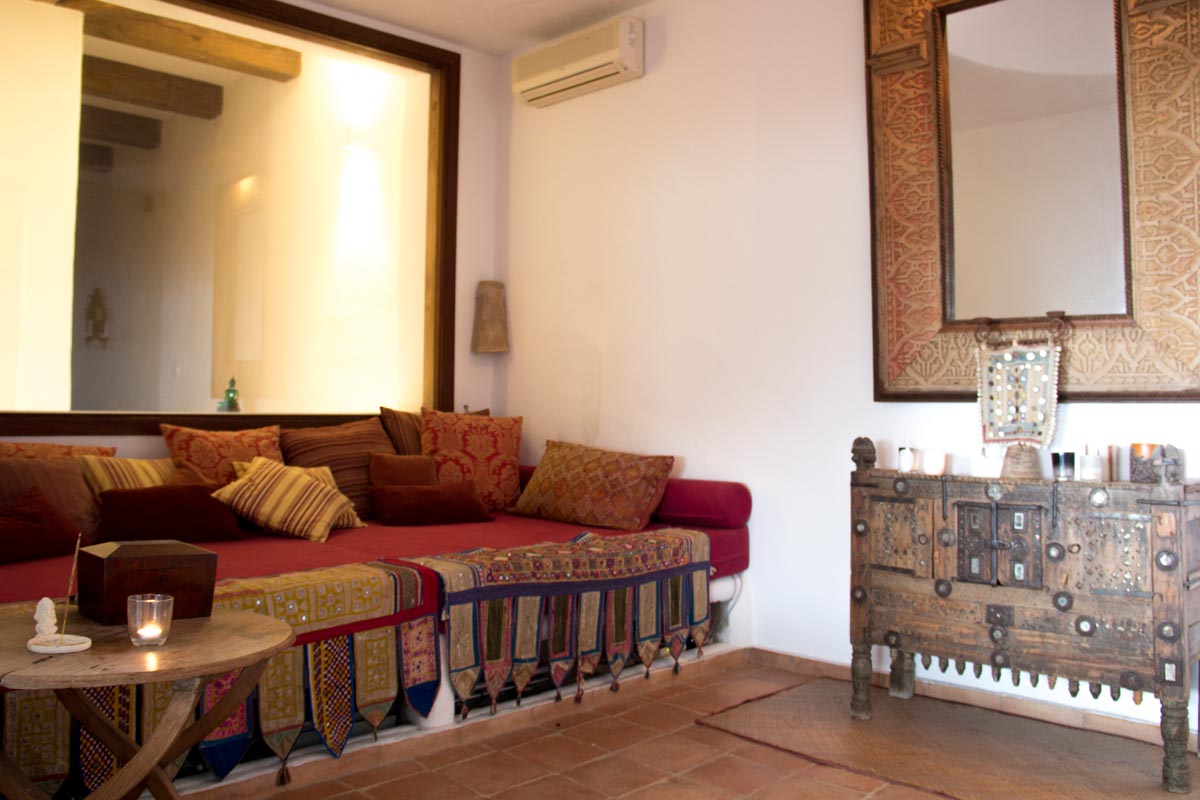 #7
Ananda Mega Suite
As you enter Ananda Suite, prepare to have your breath taken away by the enormity of the space and the truly incredible sea-views. Light pours in through floor to ceiling sliding doors that run across the space, providing access to a balcony just perfect for pampering treatments and quiet time. Even the word 'suite' doesn't do this space justice. Don't be put off by the idea of a quadruple room as this one is simply gigantum and utterly luxurious.
Within the main suite you will four sleeping spaces carefully placed to optimise privacy and complimented by beautiful artwork and furniture throughout. The main suite offers an open plan bathroom, with bath, shower, walk in wardrobes and enclosed W.C.
Adjoined to the suite is a second spacious and sumptuous space with living area and a private bathroom with shower and a second W.C. This space serves as the primary bathroom to the suite to ensure an option offering complete privacy in addition to the open-plan bathroom of the main area. The ensuite living space and bathroom also has a gorgeous balcony housed in the traditional brickwork of an Ibizan mill.
Ananda Suite is simply perfect for solo travellers and friends travelling together.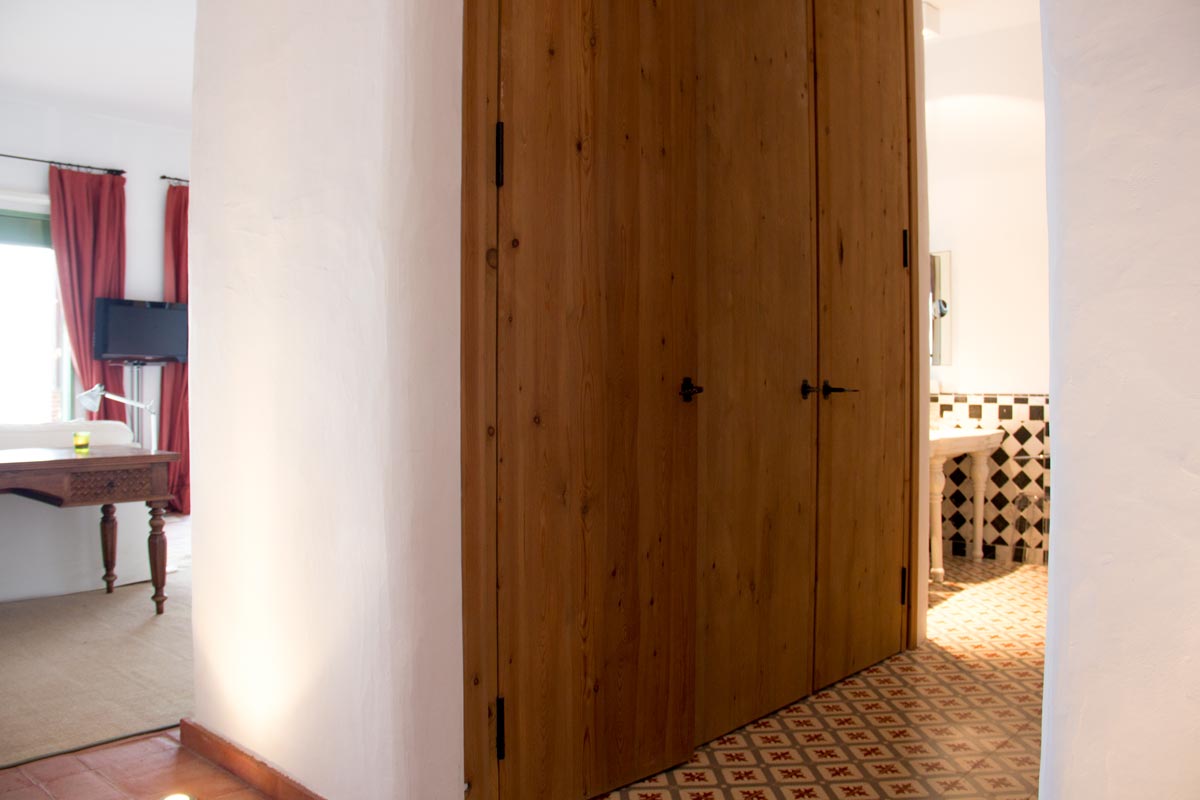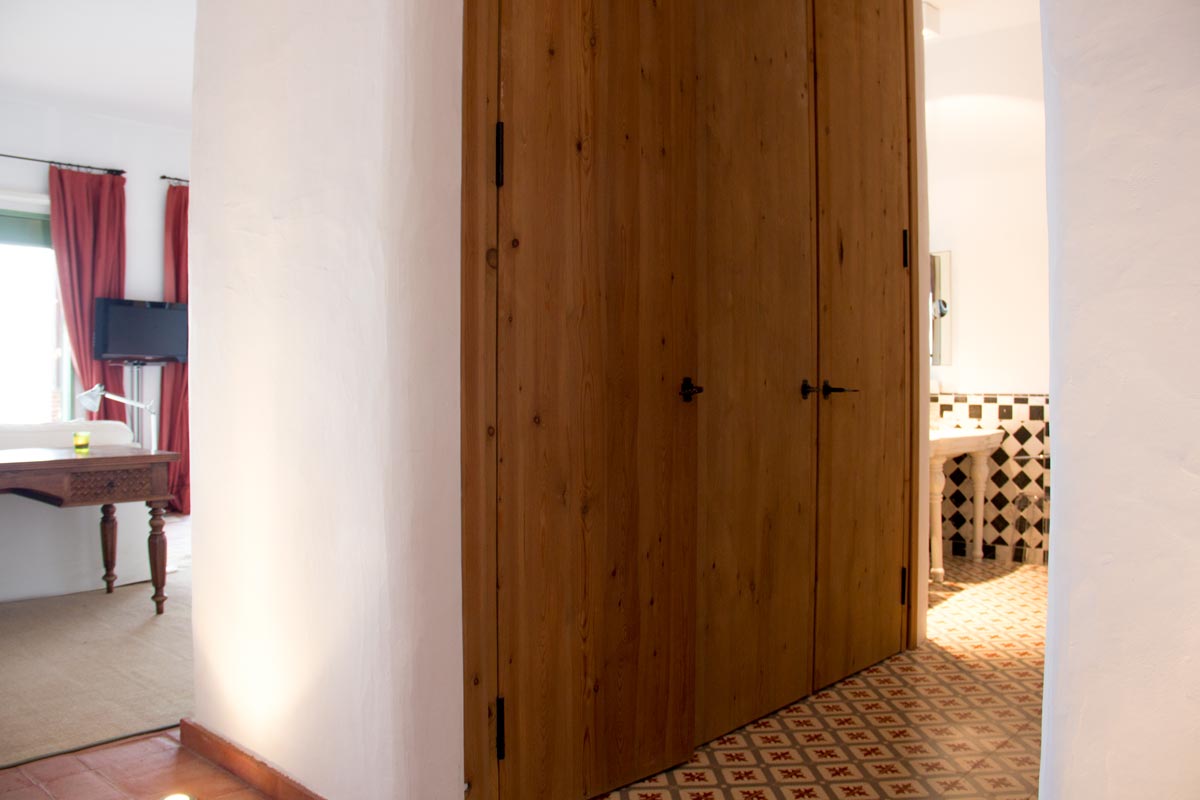 BOOKINGS, PRICES, AVAILABILITY AND DATES: