luxury ibiza PURE SOULSHINE RETREATs
May, June, July & September 2019
Packages from €1,730 per person
The perfect place to breathe deep...
Our much-loved Pure Soulshine Retreats encapsulate the heart and soul of the Soulshine philosophy. Much more than just a 'Yoga holiday' these carefully curated retreats led by our experienced and passionate Soulshine Team provide the ultimate opportunity to pause from the crazy pace of modern day life, to rediscover and reconnect with your true nature and to let your soul shine (not to mention laugh lots, make new friends with like-minded people, snooze, sunbathe, explore, indulge in ridiculously yummy food and have an all round fantastically fun time!).
Your morning practice, lead by our very experienced Soulshine Lead Yoga teachers, will incorporate Meditation, Pranayama (breathing techniques) and dynamic Vinyasa Flow Yoga to awaken the body, mind and spirit. The evening practice will focus on incorporating healing Yin and Restorative poses and sessions of deeply relaxing Yoga Nidra guided meditation. Throughout the week there will be a series of informative workshops to help support you on your way to living in optimal emotional and physical health.
Each day will also include life-inspiring and transformative workshops, including a healthy Cooking Session, Beginners Yoga Workshop, Nutrition Talk, Introduction to Ayurveda, Transformational Breath, Sound Meditation and Mindfulness Meditation to empower you to live the healthiest and most joyful life!
Explore our Pure Soulshine Retreat experience
CAN SHUI - OUR LUXURY IBIZA HOME
The perfect place to unwind...
For such a magical space nestled into the stunning Ibiza countryside in a private development and with endless uninterrupted views out to sea, the translation of Can Shui, a 'place of harmony', could not be more appropriate.
Your retreat includes 6-nights in a stunning Luxury Ibizan villa with amazing onsite Soulshine Hosts and Holistic Wellness Team, luxuriously attentive Can Shui team plus a wonderfully small group to ensure maximum pampering and attention. Not to mention a totally jam-packed wellness programme.
We're also a 40 minute mountain trek to a wild and beautifully secluded beach. Pack your trainers as it's definitely worth a visit!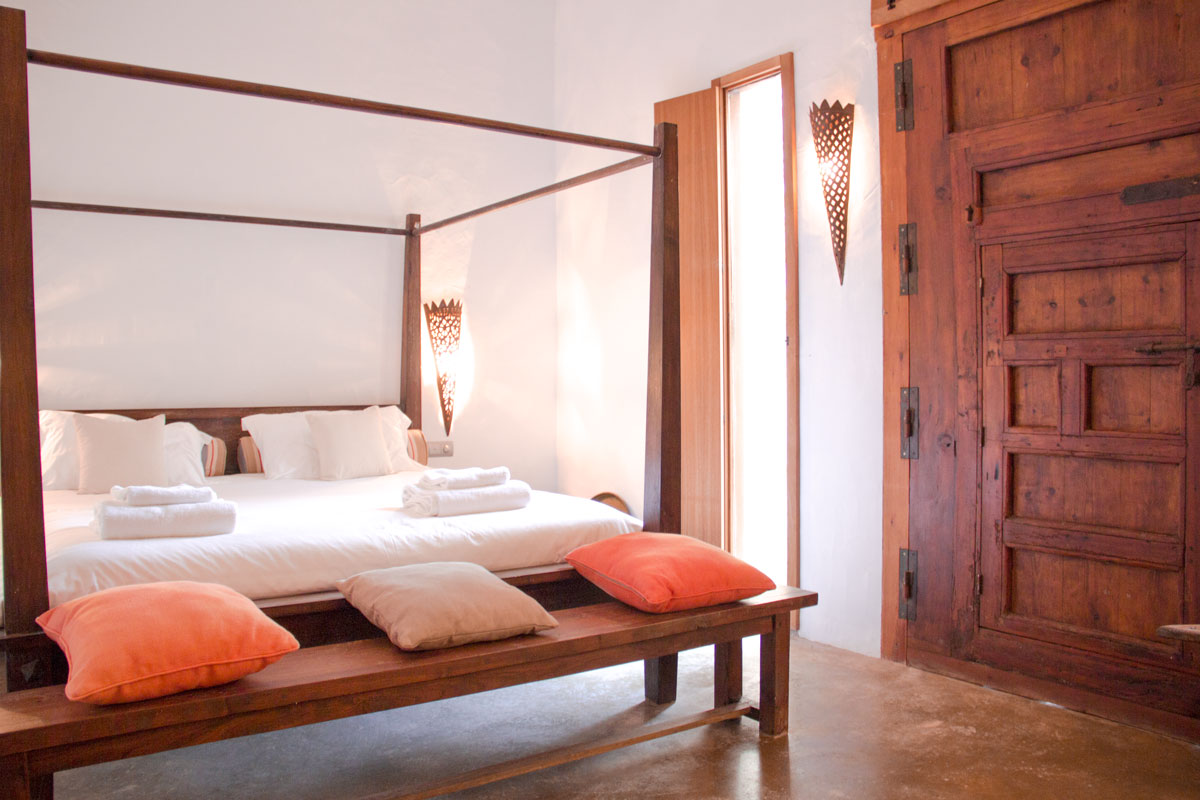 THE ROOMS
The perfect place for peaceful nights...
With daily house-keeping, sumptuous linen, organic bath products and a meticulous attention to luxurious detail, your Can Shui experience is guaranteed to provide high levels of comfort and pampering. We have a collection of wonderful rooms, offering solo and shared occupancy for you to pick from during your Soulshine stay, many offering stunning sea-views.
Travelling Solo? Never fear, the vast majority of our guests are solo travellers. You do not need to travel with a friend or partner to enjoy our shared rooms. We're so proud that we seem to attract just the loveliest people and have seen many a beautiful friendship flourish on retreat. Sharing will be with the same gender.
DELICIOUSLY HEALTHY CUISINE
The perfect place for healthy indulgence...
The food on the retreat is prepared with great experience and nutritional wisdom by much-loved Remko the Healthy Chef. Remko (a regular on Dutch TV) is absolutely passionate about creating 'food as medicine'. The menus for the week have been developed with the guidance of our expert Soulshine Nutritionist and all the meals are truly a delicious delight, prepared with exceptional produce, the highest healing attention and more love and attention than you can possibly imagine. You definitely won't be going hungry!
To provide a truly nurturing, nourishing and healing experience, food will be vegan and gluten-free. We believe that this really provides an opportunity for your body to heal and detox – especially in conjunction with all the other healthy practices that you'll be enjoying. We are of course very happy to accommodate special dietary requirements.
WHAT'S INCLUDED IN YOUR Pure soulshine retreat
Your jam-packed Pure Soulshine Wellness Experience includes all of the following...
Daily 2-hour dynamic Chakra-inspired morning Yoga practice with Soulshine Lead Teachers

Daily 1-1.5 hour afternoon practice combining Restorative Yoga, Yin Yoga, Yoga Nidra and Meditation

30-minute pampering massage treatment

NEW FOR 2019: Soul Stirring Sound Meditation

NEW FOR 2019: Silent Meditation Walk to our local stunning cove

NEW FOR 2019: Powerful Transformational Breath Workshop

Healthy cooking session with Remko, our amazing Can Shui Chef

Beginners Yoga Workshop

Nutrition Workshop with our highly skilled Nutritional Therapist to empower and educate on habits for optimal health

Introduction to Meditation workshop

Introduction to Ayurveda Workshop

1-on-1 with Soulshine Team to develop a personal pamper schedule with our extraordinarily talented Holistic Soulshine Team during your stay

A jam-packed After-Care Pack to help integrate healthy habits and continue to support you following your Soulshine Retreat

NEW FOR 2019: Private Soulshine Facebook Group for continued inspiration and support

NEW FOR 2019: Choice to add 1:1 Shine Bright Life-Coaching Sessions with Soulshine Founder Soulla at discounted 'Soulshiner' rates
Plus, your Luxury All-Inclusive Villa Experience includes:
6-nights in stunning Can Shui, our much-loved Luxury Soulshine home

Amazing onsite Soulshine Host team lead by Rich or Soulla, extensive Soulshine Holistic Wellness Team, the luxuriously attentive Can Shui Team plus a wonderfully small group to ensure maximum pampering and attention.

All food prepared by celebrity Dutch Chef, Remko (back for the third summer, our guests simply adore him)

A daily morning healthy & healing juice and breakfast feast

Wholesome, organic & healthy vegan lunches & dinners at the villa. All our food is vegan and gluten-free. Our guests generally love to have the opportunity to explore the stunning Ibiza island, so we always leave one free day where you can take a picnic with you as you hit the local beaches or explore Ibiza town or the markets and one free evening to enjoy the many culinary delights of the island. Your evening meal and travel costs when out exploring the island aren't included in your package price and we will help organise everything so you can continue relaxing on retreat.

Daily teas and unlimited water during your stay plus one glass of wine with dinner

Complimentary group transfer to and from Ibiza airport at a designated travel time*

Gorgeous Soulshine goodie bag of treats

Plus, a whole heap of love from the Soulshine Team before, during and after your retreat
A truly jam-packed and utterly luxury experience! With many years of experience running highly successful retreats and with many, many returning Soulshiners each year, we guarantee an exceptional retreat experience.
Pure Soulshine Sample Retreat Schedule
7:30-9:30 | Dynamic Chakra Flow Yoga & Meditation to greet the day

9:30-10:00 | Morning Journalling and Gratitude Practice

10:00-11:00 | Delicious Breakfast feast and energising morning juice

11:15 - 12:15 | Morning Talks and Workshops

14:00 - 15:00 | Healthy Lunch at the Villa

17:30-19:00 | Soothing evening Yoga practices and wellness experiences

20:00 | Dinner at Can Shui (or out exploring the island on your free evening)
We encourage a complete digital detox during your stay (with the option to hand in phones), recommend early bed-times (to maximise rest) and will be exploring periods of social silence (to deepen Self-Enquiry). Click here to explore our 2019 Ibiza Shine Bright Programme.
YOUR IBIZA SOULSHINE TEAM
The perfect place to be utterly looked after...
Our goal is to utterly pamper and care for you during your Soulshine Retreat, so that you don't need to think about a thing other than relaxing and enjoying yourself.
In addition to the incredibly attentive and professional Can Shui team, you can expect to be utterly pampered by the Soulshine Retreat hosts and extensive Soulshine Wellness Team, comprised of handpicked expert Yoga teachers, Meditation guides, Ayurvedic & Nutritional experts and body soothing massage therapists - all sharing one intention - to spoil you rotten.
Read on for more information on our Luxury Ibiza Pure Soulshine Teaching Team…
Your 2019 Luxury Ibiza Pure Soulshine Team
Rich Woodall
Soulshine Manager & Yoga Teacher
Our much-loved Soulshine Manager Rich is back caring for our Soulshine guests on retreat and immersing them in gorgeous Yin Yoga and heart-felt Meditations. A yogi, a writer, a thinker, a t-total drinker; a seeker of calm, of peace. A lover of stillness and breath, of the ocean and nature. Rich loves seeing people wherever they are in their spiritual journey, embracing the dance. Inspiration for Rich comes when people find the moment they can tune into their super bright, true core awesomeness.
In addition to ensuring the smoothest running of your Soulshine Retreat and wrapping you up in lots of love, he'll be leading the Beginners Yoga Clinic and providing deliciously soul-soothing Yin Yoga and Yoga Nidra Meditation on our Luxury Ibiza Pure Soulshine Retreats.
Rich's classes always have a philosophical approach delivered in an utterly accessible way. He has also been known to throw in a joke or two and he will often encourage you to lift the corners of your mouth and smile! With playlists that range from traditional chanting, and mediation music to Bob Marley and The Beatles, his classes come with dancing, laughter, and lots and lots of love. His Yin classes are slow, and deep and will encourage you to really allow yourself to be still and at peace with your body and practice. With a focus on finding space, in every sense of the word.
Rachel Spain
Soulshine Vinyasa Flow Teacher
Back for a sixth Soulshine summer and much-loved by our many returning guests, our expert Yoga teacher Rachel will be leading the morning Vinyasa Flow Yoga sessions on our Luxury Ibiza Pure Soulshine Retreats.
Rachel's classes are fluid, flowing, challenging and with strong intention. As a trained Pilates teacher she provides clear, precise, safe and alignment focussed classes. Synchronising movement with breath, expect to be guided through a dance of asana (yoga pose) sequences to stretch and strengthen both the body and mind, releasing physical and mental tension held from any stress and worry.
Her aim is to teach each individual to find their own inner teacher, to avoid rising to the ego and forcing or straining beyond our current limits and to develop a compassionate approach to our needs, both on and off the mat. By cultivating acceptance, an understanding that change is constant and the ability to go with the flow, she hopes to help each student on their journey to Santosha - a place of joy, peace and contentment.
Watch now for a taster of our Soulshine Retreats Experience...
Check out all the amazing feedback from our much loved (& mighty happy) Soulshiners...