luxury ibiza Shine bright programme
April-October 2020
Packages from €1,880 per person
The perfect place for an emotional detox, healing and transformation...
Built on a foundation of Yoga, Mindfulness, Self-Compassion and Life-Coaching, our deeply cathartic Shine Bright Programme provides an opportunity to bring a cleansing detox to body, mind and spirit.
The intention of our Shine Bright Programme is to create a pause in your life so you can get clear on who you are away from all your roles and responsibilities, what it is you truly desire and what might be holding you back. Consider it like an emotional spring-clean! And the support continues beyond the retreat with a follow-up 1:1 Coaching Session, a group Coaching session and extensive After-Care Support pack.
Expect a fully-immersive and highly bespoke journey of personal development, self-enquiry, reflection and deep rest, all within a safe and deeply nurturing environment. Perfect for those seeking healing, clarity, an emotional detox, greater self-understanding and a pause to reset from daily life.
2019 Shine Bright Programme Dates
Explore our Shine Bright Programme
OUR LUXURY IBIZA HOME
The perfect place to unwind...
For such a magical space nestled into the stunning Ibizan countryside in a private development and with endless uninterrupted views out to sea, the translation of Can Shui, a 'place of harmony', could not be more appropriate.
Your retreat includes 6-nights in a stunning Luxury Ibizan villa with amazing onsite Soulshine Hosts and Holistic Wellness Team, luxuriously attentive Can Shui team plus a wonderfully small group to ensure maximum pampering and attention. Not to mention a totally jam-packed wellness programme.
We're also a 40 minute mountain trek to a wild and beautifully secluded beach. Pack your trainers as it's definitely worth a visit!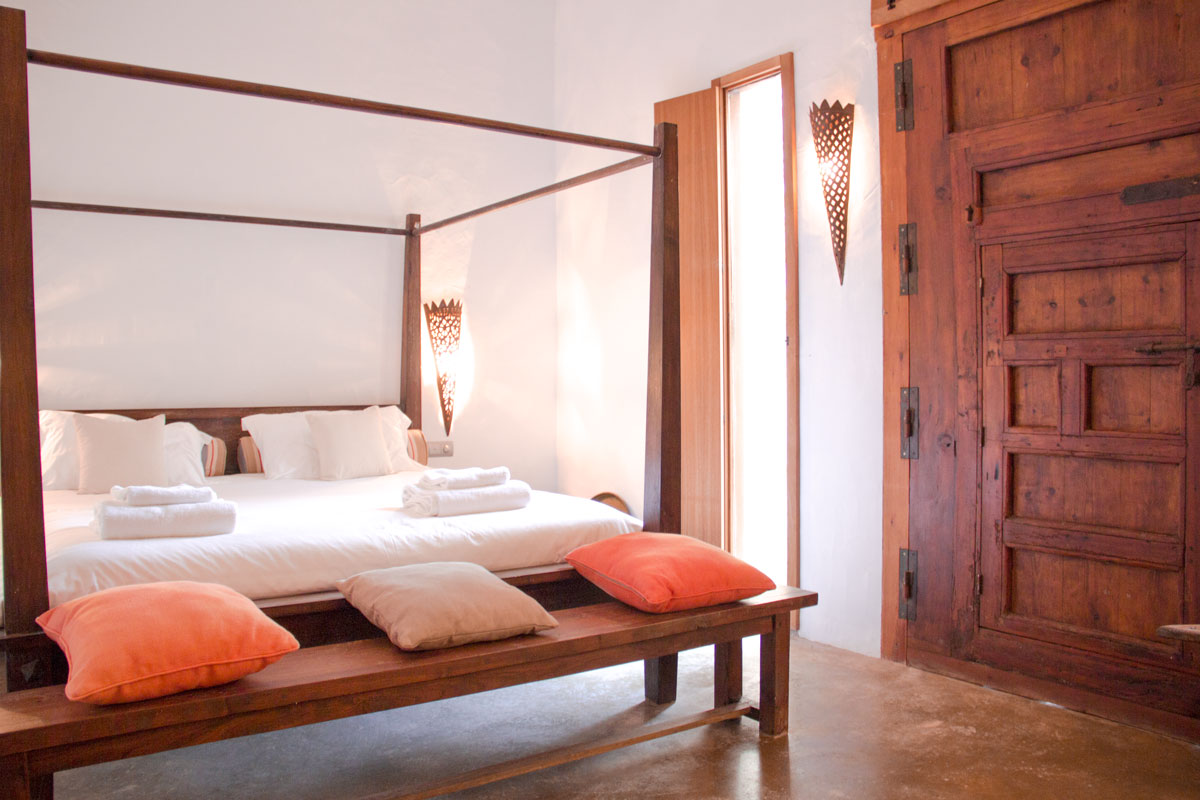 THE ROOMS
The perfect place for peaceful nights...
With daily house-keeping, sumptuous linen, organic bath products and a meticulous attention to luxurious detail, your Can Shui experience is guaranteed to provide high levels of comfort and pampering. We have a collection of wonderful rooms, offering solo and shared occupancy for you to pick from during your Soulshine stay, many offering stunning sea-views.
Travelling Solo? Never fear, the vast majority of our guests are solo travellers. You do not need to travel with a friend or partner to enjoy our shared rooms. We're so proud that we seem to attract just the loveliest people and have seen many a beautiful friendship flourish on retreat. Sharing will be with the same gender.
DELICIOUSLY HEALTHY CUISINE
The perfect place for healthy indulgence...
The food on the retreat is prepared with great experience and nutritional wisdom by much-loved Remko the Healthy Chef. Remko (a regular on Dutch TV) is absolutely passionate about creating 'food as medicine'. The menus for the week have been developed with the guidance of our expert Soulshine Nutritionist and all the meals are truly a delicious delight, prepared with exceptional produce, the highest healing attention and more love and attention to detail than you can possibly imagine. You definitely won't be going hungry!
To provide a truly nurturing, nourishing and healing experience, food will be gluten-free and vegan. We believe that this really provides an opportunity for your body to heal and detox – especially in conjunction with all the other healthy practices that you'll be enjoying. We are of course very happy to accommodate special dietary requirements. Please note, this retreat is alcohol-free.
WHAT'S INCLUDED IN YOUR shine bright programme
Your Shine Bright Wellness Programme includes all of the following:
During your retreat
Daily 90-minute Chakra-themed Yoga Flow lead by Louise to awaken the body, mind and spirit and connect to the daily programme themes

Daily 30-minute morning Open Pages journalling session and Gratitude practice lead by Soulla

NEW FOR 2019: Daily 1.5-2 hour afternoon Yoga practice lead by Soulla with a focus on Self-Compassion, Mindfulness, healing the nervous system and/or a workshop / wellness experience to support the deepening of your Shine Bright Programme such as: Sound Meditation and Breathwork session

NEW FOR 2019: Daily 1.5-2 hour inspiring and transformative Shine Bright Life-Coaching Workshop lead by Soulla to empower you to live the healthiest and most joyful life with Self-Love, confidence and clarity

Yoga Therapy for Sleep and Anxiety, with sessions focusing on calming and soothing the nervous system to encourage greater physical, emotional and spiritual balance

Dynamic Meditation and 5-Rhythms Inspired Practices

Nutrition Workshop with our highly skilled Nutritional Therapist to empower and educate on habits for optimal health

1-on-1 with Soulshine Team to develop a personal pamper schedule with our extraordinarily talented Holistic Soulshine Team during your stay
Following your retreat
NEW FOR 2019: 60-minute 1:1 Life-Coaching Session with Soulla a month after your retreat to check-in on the integration of the retreat, review your goals and intentions and continue on your journey of self-care

NEW FOR 2019: 60-minute Group follow-up Online Session a month after your retreat

NEW FOR 2019: Private Soulshine Facebook Group with ongoing inspiration and support

A jam-packed After-Care Pack to help integrate healthy habits and continue to support you following your Soulshine Retreat

NEW FOR 2019: Choice to add 1:1 Shine Bright Life-Coaching Sessions with Soulshine Founder Soulla at discounted 'Soulshiner' rates
Plus, your Luxury All-Inclusive Villa Experience includes:
6-nights in stunning Can Shui, our much-loved Luxury Soulshine home

Amazing onsite Soulshine Host team lead by Rich or Soulla, extensive Soulshine Holistic Wellness Team, the luxuriously attentive Can Shui Team plus a wonderfully small group to ensure maximum pampering and attention.

All food prepared by celebrity Dutch Chef, Remko (back for the third summer, our guests simply adore him)

A daily morning healthy & healing juice and breakfast feast

Wholesome, organic & healthy vegan lunches & dinners at the villa. All our food is vegan and gluten-free. Our guests generally love to have the opportunity to explore the stunning Ibiza island, so we always leave one free day where you can take a picnic with you as you hit the local beaches or explore Ibiza town or the markets and one free evening to enjoy the many culinary delights of the island. Your evening meal and travel costs when out exploring the island aren't included in your package price and we will help organise everything so you can continue relaxing on retreat.

Daily teas and unlimited water during your stay (please note, alcohol isn't served on this retreat)

Complimentary group transfer to and from Ibiza airport at a designated travel time*

Gorgeous Soulshine goodie bag of treats

Plus, a whole heap of love from the Soulshine Team before, during and after your retreat
A truly jam-packed and utterly luxury experience! With many years of experience running highly successful retreats and with many, many returning Soulshiners each year, we guarantee an exceptional retreat experience.
About our Shine Bright Programme...
Using the energetic Chakra system as our guide and through Yoga, Mindfulness Meditation, Healing Therapies and Transformative Life-Coaching Workshops we'll share a journey of reconnection to explore:
Limiting beliefs and practices to support living a life of greater Self-Compassion and Self-Acceptance

Getting to know our inner critic and fear-based parts and learning tools to greet these parts of ourself with compassion and kindness

Recognising habits, thoughts and situations that no longer serve us

Learning to express our unique Voice

Tools to work with stress, anxiety and worry

Learning to receive the wisdom of our body

Learning how to create presence and space in your life

Transformative tools, exercises and goal-setting to help you align to your true Self

Greater Self-Awareness and commitment to Self-Care

An abundance of tools to support you following your retreat
Our Shine Bright Tools
Shine Bright Transformative Life-Coaching for insight, exploration and clarity

Movement practices including Yoga lead by Soulla and the Soulshine Team and with a focus on reconnection and healing the nervous system

An extensive toolkit of wellness tools and Psychology informed methodologies to help you cultivate greater awareness, emotional resilience and provide a platform to navigate the challenges of modern-day life including anxiety, stress, burnout, low self-esteem, loss and working with the inner critic

Compassion-based Mindfulness Meditation & Insight practices: Meditation is one of the most valuable tools we have access to, it allows us to process our emotions, connect with ourselves and gain clarity in life. Mindfulness techniques can help us educate our mind to recognise their inner critic and cultivate a calmer and more compassionate inner dialogue

Yoga Therapy for Insomnia provides practical advice and support on sleep and stress management

Breathwork techniques, Yoga and a focus on balancing the Nervous System to support individuals with anxiety, depression, stress, overwhelm and the overall development of greater emotional awareness, balance and resilience

Emotional Freedom Technique and LifeForce Yoga to work with anxiety, stress-management, fears and phobias

Exploring our 'parts' using Internal Family Systems model for healing and awareness

Morning Pages journalling

Daily gratitude practice

Transformational breath for releasing and healing

Voice-work to explore true connection and authentic expression

Dynamic Meditations

Yoga Nidra and Guided Meditations

An extensive team of Soulshine's expert wellness professionals such as Nutritional Therapists with specialisms in burnout, anxiety and stress management can also be engaged to support your Shine Bright Life-Coaching Programme
Step truly into your power to navigate life as you enhance and strengthen your relationship with yourself with compassionate awareness, to bring healing, peace and joy.
Shine Bright Sample Retreat Schedule
7:30-9:00 | Morning Movement / Yoga Practice (Louise)

9:00-9:30 | Journalling and Gratitude Practice with fruit snack (Soulla)

9:30-10:30| Insight Talk and Self-Compassion Mindfulness Practice (Soulla)

10:45 - 11:30 | Delicious homemade breakfast and morning juice

12:45-14:15 | Daily Morning Talks and Workshops (Soulla)

14:30 - 15:30 | Lunch at the Villa

17:45 - 19:30 | Deeply relaxing Self-Compassion Focussed Yin and Restorative Yoga or Wellness Workshops (Soulla & Shine Bright Team of experts)

20:00 | Dinner feast at Can Shui (or out exploring the island on your free evening)
We strongly encourage a complete digital detox during your stay, recommend early bed-times by 21:45 (to maximise rest) and will be exploring periods of social silence (to deepen Self-Enquiry). Click here to explore our 2019 Pure Soulshine Retreats
DATES, PRICES & BOOKING
With just 9 Ibiza Retreats for 2019, availability is incredibly limited
Enquire now to hold your perfect spot
Meet Soulla
Your Shine Bright Host & Teacher
Transformational Life-Coach, Yoga and Mindfulness Teacher and Founder of Soulshine Retreats, Soulla has nearly a decade of experience working personally and professionally with thousands of individuals from all walks of life – holding space for deep transformation, clarity and healing.
Soulla's purpose is to support individuals to gain greater personal insight, overcome past experiences, find clarity and focus, reduce anxiety and stress, increase confidence and live a more purpose filled and balanced life - physically, mentally and emotionally.
As someone who has suffered from Anxiety and Depression for many years and also gone through the bumpy terrain of a major life overhaul, she really has journeyed deeply, and often through the 'shadow side' to explore, experience and discover practices that support us in our pursuit of happiness and peace. It was through her own journey, the highs and the lows, that the desire for Soulshine Retreats and all that it encompasses was born and she has spent the last ten years immersing herself in practices for healing and wellbeing and sharing them with others.
A little note from Soulla…
I am an ardent believer in cultivating a compassionate approach for taking our happiness and our destiny into our own hands in order to live life fully and joyfully and believe that we all hold the innate potential for healing. Sometimes we just need someone to hold our hand and guide us.
I hold a deep desire to share the skills that I have learned on my journey in the same way that they were shared with me and when I needed them. These practices and tools have brought me hope and I have seen them bring hope and happiness to so many others.
My intention is to support positive transformation into the world so that each and every one of us can embrace our full potential and find the happiness and freedom that exists within us all. Quite simply, to shine bright!
Meet Louise
Our Soulshine Morning Vinyasa Flow Teacher
A scientist, a mystic, a dancer, a poet, an artist, a story teller a seeker and a believer - in all things magic. It has been Louise's life mission to understand and heal all things body, mind and spirit. With a BSC in Physiotherapy, post graduate diploma in Orthopaedic medicine and trained as a Massage therapist, Pilates and Yoga Instructor, Louise is a truly skilled, safe and inspiring teacher.
She found Yoga and Meditation on her own journey which has supported her in healing old wounds and a childhood eating disorder that reappeared in adulthood following a traumatic car accident. Her journey has taken her to her teachers in the sacred Himalayan mountains of India, to Buddhist teachers in America and other seekers of wisdom world wide. Louise now uses both western science, physiology and eastern practices and wisdom to give people a completely holistic and individual approach to self-optimisation and healing.
In Louise's yoga classes she empowers you with all the wisdom, knowledge and tools you need to explore your body and mind as a unique individual. Her words truly touch your soul and the wisdom you take away forever. Her understanding of the body allows her to give the most therapeutic hands on adjustments and posture adaptations for each individual and their needs.
Her presence is calming and soft, her class is strong. Louise has the most calming voice that takes you on the most blissful journey during savasana. Prepare to feel safe, nurtured and challenged, to break through to new levels of your being.
Check out what previous Soulshiners had to say about Soulla & their retreat experience…
YOUR IBIZA SOULSHINE TEAM
The perfect place to be utterly looked after...
Our goal is to utterly pamper and care for you during your Soulshine Retreat, so that you don't need to think about a thing other than relaxing and enjoying yourself.
In addition to the incredibly attentive and professional Can Shui team, you can expect to be utterly pampered by the Soulshine Retreat hosts and extensive Soulshine Wellness Team, comprised of handpicked expert Yoga teachers, Meditation guides, Ayurvedic & Nutritional experts and body soothing massage therapists - all sharing one intention - to spoil you rotten.
Watch now for a taster of our Soulshine Retreats Experience...